Chris' Tip Jar – Selecting your Wedding Photographer
Selecting your photographer for your wedding, after maybe your caterer and day of coordinator, is perhaps the highest priority vendor choice you will have to make throughout your wedding planning process. Your photos will last forever and will be the few tangible memories you can keep from your wedding. However, without your priorities set in place, and with all the wedding photographers out there, you can quickly become overwhelmed or, heaven forbid, end up overspending on services you don't need! Not to fear, your resident day of coordinator is here to ease the burden!
I am currently planning my wedding and figured a blog could be helpful to share our thought process when deciding on our photographer. I will talk a bit about our list of priorities and how our choice of photographer fits them like a glove!
Flexibility and Budget for Wedding Photographers
My fiancé and I knew we wanted two photographers but did not need both for the entire afternoon. Many studios will offer 8+hr packages that can cost quite a bit extra. Not that photographers are typically inexpensive, but thankfully booked a 4.5-hour block with the second shooter because we cared more about getting all the angles for the ceremony than the reception. We were able to knock off about a thousand dollars by going this route and couldn't be more thankful to our photographer for their flexibility. It is easy to start contracting bells and whistles like videography, extra style, and detail shots. Ask yourself beforehand, do you need all that? Will you be watching your wedding video every anniversary? Or will it sit in its case for the next few decades? It is all about you, so do not feel the need to accept a cookie-cutter package with services you don't need or want and save some of your budgets for your other vendors.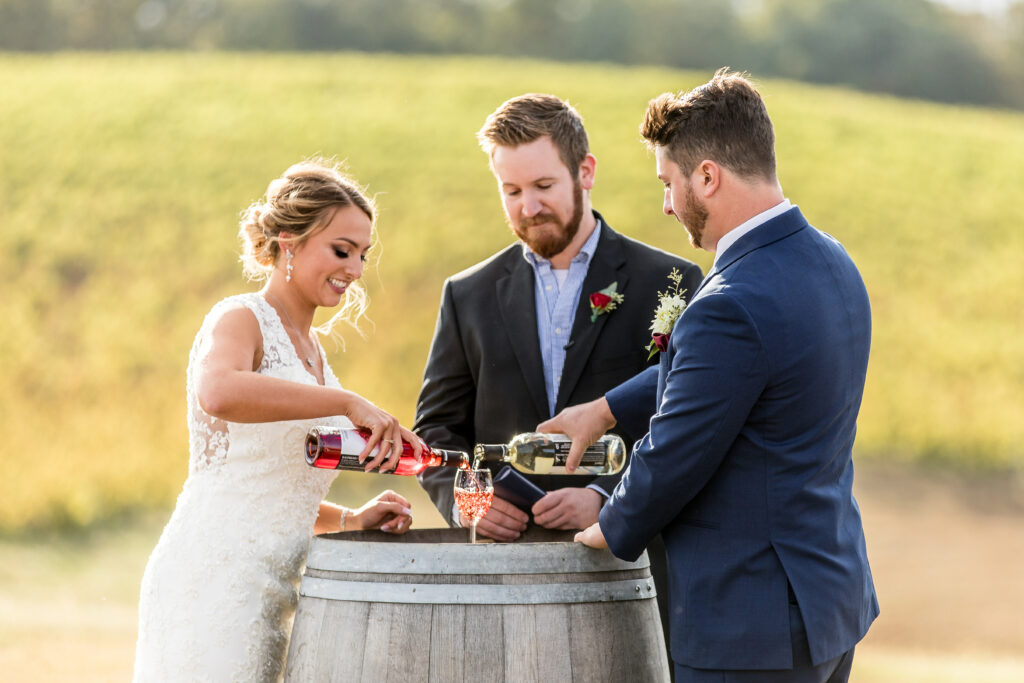 How Do I Know if My Wedding Photographer is a Good Match?
After running through about a dozen Instagram pages and about half that in Zoom meetings, we booked a photographer with an aesthetic we liked and cliqued with personality-wise. They understood our vision and were willing to work with us to create a tailored fit. Sure, it might have helped that I had worked with this photographer in the past, but it will be essential for you to have a good rapport with your photographer. You will spend much of your wedding day with your photographer, with them telling you what to do. You and your fiancé should like them enough to avoid unsavory thoughts erupting before your first dance. If you are truly unsure, see if you can book just an engagement shoot with your top photographer. Engagement shoots are way less expensive than wedding services and you'll get to see if you and your fiancé work well with the photographer.
Of course, everyone has different budgets and priorities, so please do not take my words as gospel. They are not a recommendation nor a condemnation of any list of services. Rather my words are meant to illustrate a thought process for you to think about. Of course, if you need help deciding between vendors, I am always here to lend a hand!
---
About Chris
Chris joined the Linganore Winecellars Private Event Team in 2022. He brings with him a wealth of knowledge and experience from another local winery. Chris is creative, personable, organized and is committed to interpreting the clients' vision of their event and turning it into reality. Calm and professional under pressure, he is an assertive individual who ensures each client's event is a success.
For more information or to schedule an intimate tour of our facility please contact our Private Event Sales Director, Mary Beth Davis at MaryBeth@LinganoreWines.com.