Wine Tasting in Maryland
To help reduce as much risk to our customers and employees as possible, we will be limiting our sales to online and "to-go" bottles only, until further notice. That means we will not be offering tastings, but you are still welcome to come in and purchase bottles. We are also discounting shipping on all online orders to decrease the cost during this time. You can place a to-go order by selecting "Pick up in Mt. Airy" in our online store.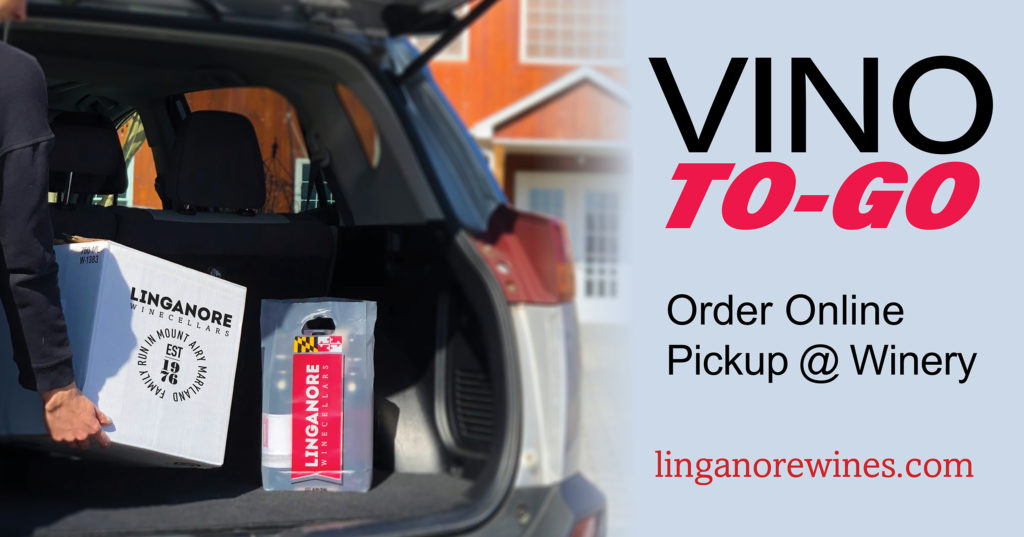 Tastings and tours 361 days of the year!
Winery Hours Of Operation: 
Monday – Friday 10am-5pm
Saturday 10am-6pm
Sunday 12pm-5pm
Christmas Eve and New Year's Eve – 10am-3pm
CLOSED: New Year's Day, Easter Sunday, Thanksgiving, Christmas

Visit Red Shedman Farm Brewery located on the grounds of Linganore Winecellars.
Tastings are ongoing throughout the day. We have two different options that you can choose from.
Wine Tastings – $10 – $12

Sample 12 Linganore wines from our Sweet, Blended or Reserve list. The list of wines varies each month but always includes a variety of different styles. If you are interested in a particular wine or style of wine, please let your bartender know.
Wine & Cheese Plate – $17.50 – $19.50
Reservations required for wine and cheese plate tastings. Please contact the winery at 301-831-5889, or email Dan@Linganorewines.com.
Reservations Required for Groups of 6 or More
For groups of 6 or more and wine club members only, please contact the winery at 301-831-5889, or email Dan@Linganorewines.com.
Tour
A complimentary, guided tour is offered for 12pm, 2pm and 4pm. On the tour you will learn about the history of our winery and how we make the wine. The tour can be done before or after your tasting. It is 20-30 minutes long and all indoors.
Please note: tours may be occasionally delayed or canceled due to production demands, with or without notice.
Group Visits
Reservations and prepayment are required for groups of 6 or more people. To make a reservation, please contact us by email at Dan@Linganorewines.com or by phone at 301-831-5889 / 410-795-6432 during our weekday business hours.
Looking for a place to stay nearby?
Windsong Arabians Horse Farm has a secluded vacation cottage that can accommodate up to 10 guests.  The cottage has 4 bedrooms, 3 full baths and is located close to the winery.