Wedding Day First-look Session? YES!
The tradition of seeing your significant other for the first time at the wedding ceremony is not a given anymore. Some couples opt for a private, pre-ceremony "first look" at each other dressed in their wedding attire, with photography. The topic of whether to do a first look or not will come up during your wedding planning and everyone you know will have an opinion on it.
Arguably, the moment a bride or groom steps onto the aisle is a compelling one. The drama of that moment played out in front of your guests, can't be overstated. However, there are a few great reasons to do a first-look session. Couples often choose it because it's a time-saver. Indeed, wedding party and family photos can be taken once the couple has seen each other. Since those photos are typically done after the ceremony, it buys more reception time. Couples can now join their guests for all, or part of, cocktail hour. It is very cool to be able to join your favorite people and sip wine, nibble on appetizers, laugh, and connect!
I'm a resolute proponent of the first-look session. My reasons, however, are less about the logistics of the timeline and more about the "feels" of it. I believe that there is great value to experiencing the moments of the wedding day. I have come to recognize that there are moments that happen at weddings—amazing, important, once-in-a-lifetime moments, that affect my clients (and me!) deeply. These are the best, most memorable parts of the day. Couples don't know what those moments might be or when they are coming. But I do. It's my goal to make sure that our couples don't miss a single one of these priceless moments. The first-look is one of those moments. Not convinced? Let me describe it to you.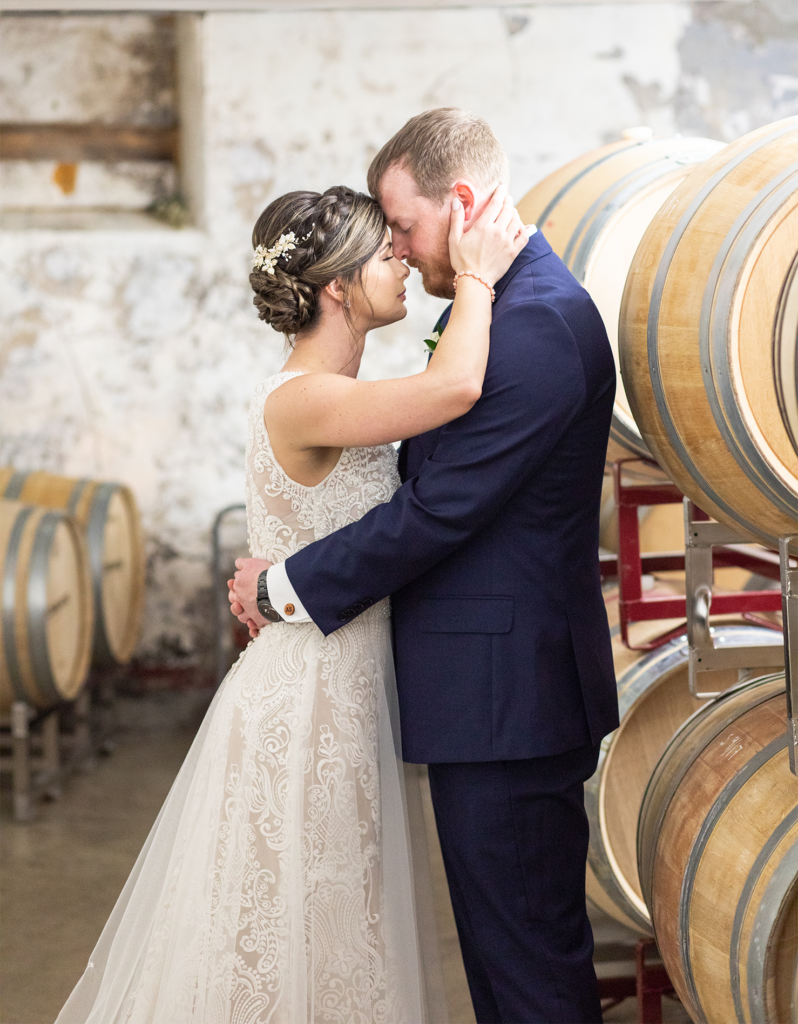 "They turn to face each other, their eyes meet, and expressions move from anticipation to passion in just a split second."

After a long, fast-paced day of preparation, beauty services, and photography, it's a welcome reprieve when a couple retreats to a very private location, alone with just their photographer (and me), to see each other for the first time that day. I suppose the goal is to see each other for the first time in wedding day attire. But what actually happens is far more unexpected and magical. They turn to face each other, their eyes meet, and expressions move from anticipation to passion in just a split second. Everything else fades away and they are alone, instinctively drawn together, lost in each other, and wrapped in the comfort of the love they have curated together. It is the most romantic, intimate moment a couple will share at their wedding. It is the affirmation that, despite having 150 guests, this gift of commitment and the endeavor of marriage is theirs, alone. It is dramatic and compelling and a moment I want every one of my clients to have. I'm not exaggerating. It's that good! I'm lucky to have a job that affords me the unique opportunity to see something that so accurately illustrates what it is to be in love. I love my job!

Coordinator Tip: First-look photo sessions mean that this breath-taking moment will be documented with both of you in the photos together. That does not happen with a ceremony reveal because you're too far apart when you see each other for the first time. During the first-look session, your photographer will capture images that tell the story of this incredible wedding day moment. You will revisit this tender memory again and again when you look at those photos.

I schedule a lot of first look sessions in our Barrel Room. This is a very special room at the Winery. With its neat rows of wooden barrels and textured cellar walls, it is a dreamy spot for wedding day photography. In this room, our winemakers are aging our wine in oak barrels. The wine in the barrels lives quietly, without ostentation, slowly evolving under the patient guidance of the winemakers. Love is like that. Tucked away inside, it grows and changes slowly. Couples who are patient and attentive, like winemakers, create something beautiful and delightful and complex. Something they can savor for a lifetime. The Barrel Room is like our couples' love stories. It's the space where something you've tended so very carefully, yields something meaningful and magical.

Tags: #linanore, #linganoreweddings, #weddings, #wine