Recipes Galore
Well Pinky's been at it again. Making delicious recipes to share with you. We've tasted them and wow- just in time for your Memorial Day cookouts.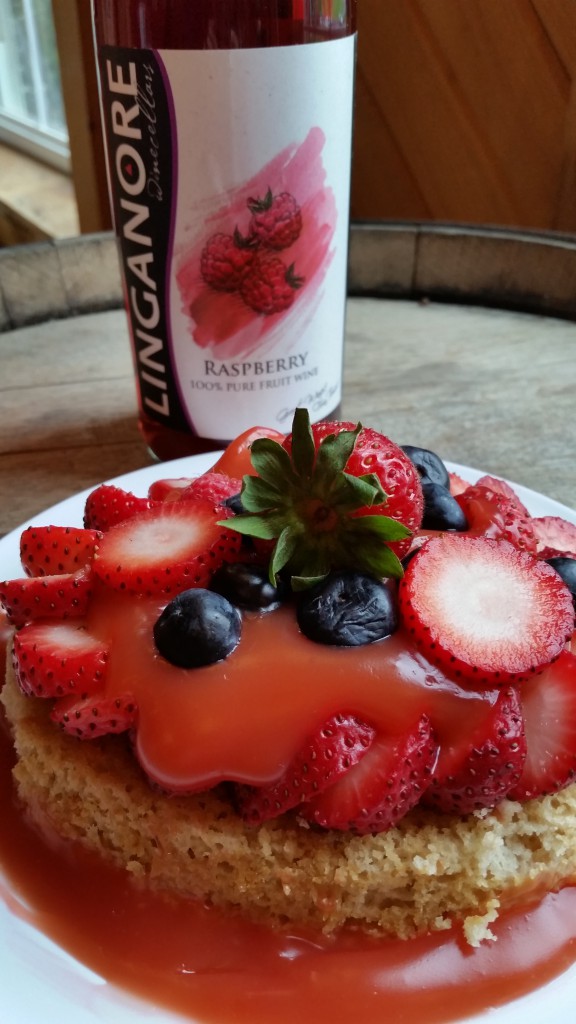 Spring Cake
1 Box Vanilla Cake Mix that calls for 1 cup of water to make the cake.
2 Cups Linganore Raspberry Wine, reduced to 1 cup, cooled.
1/2 cup Butter, melted
1-2 eggs, depending on recipe on box
For the filling:
1 Box Cook-kind Lemon pudding mix
1 1/4 cups Linganore Raspberry Wine
1/4 cup Heavy Whipping Creme
1/4 cup sugar
Topping:
2 cups Strawberries, rinsed, stems removed
1-2 cups Blueberries, rinsed
2 Bananas, sliced
1 cup Raspberries, rinsed.
Preheat oven according to directions on box.  Butter bottom of two cake pans and set aside.  In a 1 qt saucepan, add wine and cook for about 15 minutes till reduced by half (about 1 cup).  Let cool.   Add cake mix in box to a medium sized mixing bowl.  Mix in cooled Raspberry wine, eggs and melted butter to mix.  Using an electric mixer or an old fashioned fork, mix until smooth.  Add to buttered pan and cook for the amount of time recommended on back of box – usually about 25-30 minutes.  Set aside to cool.
In another small 1 quart saucepan, add one box of cook-kind lemon pudding and sugar.   Mix in 1/4 cup of Raspberry Wine and Heavy Whipping Creme.  Cook over medium heat, stirring constantly until thickened.   Remove from heat and set aside.
Place one layer of the cake on a cake dish.  Spread 1/2 of pudding mix on top, layer with fruit.  Add second cake round on top, spread pudding mix on top, add fruit.  If any pudding is left over, pour over top of cake.  Garnish with Whipped Creme if desired and enjoy!
And try these wine cocktails:
Fetch Me My Wine

1/4 cup Retriever Red

1/8 cup Amaretto Delights Coffee Creamer by International Delights

1 cup Ice

Add ingredients together and blend until smooth, also works in a metal drink cup with an immersion blender.  Makes about 1 cup

Dirty Paws

1/4 cup Retriever Red

1/4 cup Amaretto Delights Coffee Creamer by International Delights

1/4 cup Shredded Coconut flakes, sweetened

1 cup Ice

Add ingredients together in a blender and blend until smooth.  If you prefer larger bits of coconut, blend until the ice is fully chopped, if you prefer smaller bits, blend about 30 seconds longer.

Seaside Sally

1/4 cup Meade

1/8 cup Amaretto Delights Coffee Creamer by International Delights

1/4 cup Shredded Coconut flakes, sweetened

1 cup Ice

Add ingredients together in a blender and blend until smooth.  Our version of a Pina Colada!  Yum!

Tags: cake recipes, cooking, linganore, linganore wines, maryland wine, maryland winery. linganore winery, raspberry, recipes, wine, yellow cake recipe