Personalizing Your Wedding with Food. YUM!
I've been thinking about the differences between weddings now and weddings in the 70's and 80's when my cousins and siblings were getting married. One of the biggest (and coolest!) differences is my client's determination to personalize their event. The days of cookie-cutter weddings are gone, as millennial couples place a high priority on creating an event day experience that reflects who they are, as a couple.
There are so many ways to personalize your wedding, but food is, perhaps, the best way. Our relationships have a foundation of food –What you ate on your first date, the food you prepared the first time you cooked together, foods you tried together for the first time, family recipes you shared with each other. Food is a universal constant in our lives and is the context for so many of the happy moments we experience. Steamed crabs and beer with friends, brunch and mimosas with Mom on Mothers' Day, hot pockets after school, tossing scraps to your doggo, under the kitchen table…these are the everyday celebrations that define our lives. So why not use food to share a little of who you are, as a couple, with your wedding guests? So how do you do that? What is acceptable? What's too over-the-top?
While pondering those questions, I am reminded of a food tasting meeting I had with a couple. The plates were perfectly composed with pleasing colors, enticing aromas, and mouth-watering entrees. After trying everything, the groom said, "I like all this stuff. But what I really want is the kind of food I like to eat with my friends when I'm drunk." I laughed out loud because I knew EXACTLY what he was talking about. I may have been a little tipsy, a time or two, myself, and eating something amazing with friends. So, the chef and I collaborated with the couple to create a completely customized stations menu with steamed shrimp, stadium hot dogs, Buffalo wings, and sliders. On the wedding day the guests were absolutely delighted by the unexpected menu.
Although this might not be the menu for you, there's a lesson here. Don't be afraid to stray from the printed menu packages you received from the caterer. Serve your guests the foods you love. Put bacon in every dish if you want. If pop-tarts are what you eat together in the morning, have a display of them, placed on a table for a late-night snack. Have a breakfast menu for dinner. These are the things that make your love story unique and define you, as a couple.
"During the months of planning with one couple, we discovered that all three of us had a mutual love of Double Stuf Oreos."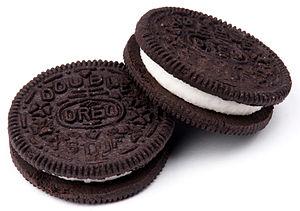 Insider tip – You'll need a collaborative chef to pull this off. I am lucky to work with Fine Cuisine, here at Linganore. Director of Catering, Joe N. is one of the most creative and inspired catering chefs I have ever worked with. He gets the importance of the role food plays at the wedding. When couples want memorable food at their wedding, he'll say, "If you love tacos, have a taco bar. If you eat barbeque all the time, then do that! There is nothing better than when your guests leave your wedding saying, 'That was SO you guys!"
For a final bit of inspiration, here is a little anecdote from my career in weddings. During the months of planning with one couple, we discovered that all three of us had a mutual love of Double Stuf Oreos. One day we were off topic, talking about the logistics of separating and reassembling Oreos to make "quadruple stuff Oreos". Admit it. You have either low key tried it or, at least thought about it. At the end of that hilarious conversation, a plan was hatched. The "Quadruple Stuf Oreo Table" was added to the floor plan and became a delicious reality on the wedding day, complete with cold milk in martini glasses for easier dunking. Yep, I'm an Oreo genius. Nabisco has, since, created the Mega Stuf Oreo but I'm pretty sure they got the idea from this couple and me.
So, when it comes to your wedding menu, be inspired. Be fearless. Be the couple you are and share that with your wedding guests. The results will be delightful, memorable, and most importantly, yummy!