Linganore Dry Wines "Wow" Renowned Wine Critics
Wine critics are recognizing Linganore's sophisticated dry wines! Carlo DeVito, author of "Wineries of the East Coast," agreed after he tried our 2016 Cabernet Franc at the Eastern Wineries Exposition.
"This was an absolute eye opener from the folks at Linganore. A very serious wine. Layers of flavors, lovely complexity." – Carlo DeVito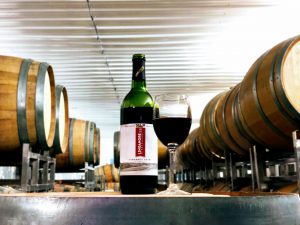 As DeVito noted, our 2016 Cabernet Franc is our first ever varietal estate bottled Cabernet Franc. We grow the grapes used in this wine right here at the winery, and every aspect of its production is handled with the care and precision needed to make it the best it can be. The Cabernet Franc is one of 13 estate bottled wines we produce here, and they all receive the same attention to detail.
"Today, not only do they continue to dominate the sweet wine section, but have introduced about a dozen very good dry wines," DeVito wrote.
Recently, popular wine critic James Suckling also gave two of our dry wines extremely high marks, even rating our 2017 Albariño the highest in Maryland.
"Our production team has done a fabulous job with our dry line," Anthony Aellen, Linganore Vice President and Winemaker said. "And we're very proud to receive this kind of recognition for it."
For its 2017 vintage, our Cabernet Franc will be under a new label as part of our reserve line. Other reserve wines include our Reserve Chardonnay, Vignoles, Petit Verdot, Exposure, and Aperture.
We want to give a sincere thank you to DeVito and all the others who have tasted our wine and shared how much they enjoyed them.
You can read Carlo DeVito's full write-up here: https://eastcoastwineries.blogspot.com/2019/02/a-serious-red-linganore-wine-cellars.html?m=0
DeVito is is a long time wine lover, and author of books and magazine articles. He is the author of Wineries of the East Coast. He has traveled to wine regions in California, Canada, up and down the east coast, France, Spain and Chile. He helped shepherded the wine book program of Wine Spectator.