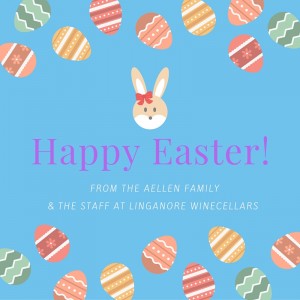 After drinking green beer and picking that perfect bracket, you might be finally starting figure out your Easter dinner plans (yes, it's only one week away!).
If you're like Linganore founders, the Aellen family, an Easter lamb dinner is just as much of a staple as the bunny. Our president and winemaker, Anthony Aellen, suggests inserting garlic cloves prior to cooking to get rid of the gamey taste. He recommends red wine to go with lamb, particularly our dry Bacioni, Chambourcin and Chambourcin Reserve to compliment a grilled lamb's smoky taste. For a roasted lamb with a sweeter marinade, Anthony suggests our Retriever Red, which has just enough residual sugar and a subtle fruit character.
For Easter ham lovers, our pick is a dry white wine including Chardonnay, White Raven or Terrapin White. These also pair well with other lighter proteins and seafood, particularly oysters. If you are planning an Easter brunch or breakfast, our 100 percent fruit Blueberry wine is a perfect match for pancakes, sausage and crepes!
Of course, there is also Easter chocolate and dessert. We recently paired our Sweet Chessie dessert wine with Samoa Girl Scout cookies, and think it would be equally delicious with coconut cake. When it comes to chocolate, Anthony suggests filling a hollow chocolate bunny with our Steeple Chase Red or Indulgence!
Now that you've got your wine shopping list, here are a few of our favorite Easter recipes from Pinky:
Linganore's Easter Ham
1 small Cured Ham, we used spiral
1 can Pineapple Rings, in light syrup
1/3 Cup Orange Marmalade
1/2 cup Linganore White Raven
1/2 cup Orange Juice
1/3 cup Dark Brown Sugar
1 Tbsp Corn Starch
2 Tbsp White Raven
Pre-heat oven to 375 degrees. Place ham in a baking dish. Secure pineapple rings to the outside of the ham with toothpicks. In a medium bowl, mix Marmalade, Linganore White Raven, Orange Juice and Dark Brown Sugar. Pour over ham. Place in oven and bake until warmed through, about 1 1/2 hours.
To thicken sauce: Remove ham from pan. Mix 2 tsp Corn Starch in 2 Tbsp Linganore White Raven. Add cornstarch mixture to the drippings in the pan and bring to a boil over medium heat. Serve with ham.
Linganore's Easter Lamb
"Growing up on a farm, we did stuff they do on a farm, which includes eating whatever we "grew" on the farm, if you get my drift. Our lamb was unlike anything I've had in the store since then. Although recently on a trip to Costco, I tried their lamb roast. It passed my test, and I've been using it in various recipes ever since. This is a rendition of our traditional Easter recipe from our mom." ~ Pinky
1 Lamb Roast (about 3-4 pounds), or a Leg of Lamb
2-4 cloves of garlic, each garlic cut into three pieces lengthwise (so they look like thick slivers of garlic)
1/2 tsp. salt
1/2 tsp dry mustard
1 tsp. Worcestershire sauce
1/2 Cup Linganore Pinky's Rose
1 Tbsp honey
1 Tbsp Ketchup
Ground Pepper
2 tsp. Corn Starch
2 Tbsp Linganore Pinky's Rose
Preheat oven to 375 degrees. Put lamb in a baking dish. Using a paring knife, cut slits into the lamb, about 2-3 inches apart over the top of the lamb. In each of these slits, push in a sliver of the clove of garlic. Try to push each sliver of garlic into the flesh of the lamb as far as you can. In a medium mixing bowl, combine remaining ingredients except pepper. Pour over top lamb. Dust top of lamb liberally with pepper as desired. Cook uncovered until internal temperature of lamb reaches 145 degrees (medium rare). For a 3-4 pound roast, this will be about an hour and a half.
To make gravy, after lamb is done cooking, remove lamb from pan. Combine corn starch and wine and mix with drippings from pan. Bring to a boil over medium heat. Remove from heat and serve with lamb.