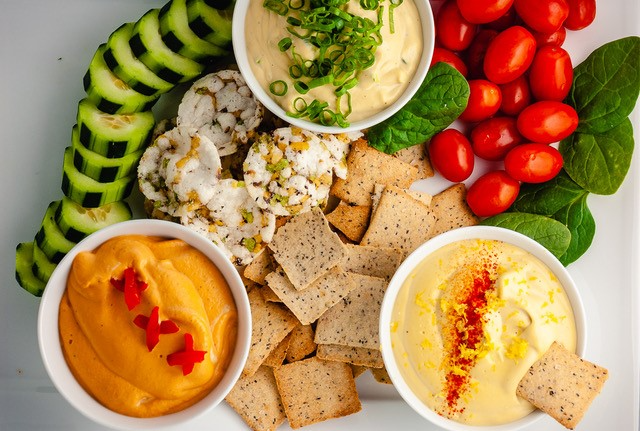 Ingredients
1 cup raw cashews , soak 3 hours or overnight
¼ cup water
2 tablespoons lemon juice
2 tablespoons Linganore Terrapin Wine
1 teaspoon dijon mustard
2 cloves garlic
¼ cup nutritional yeast
½ teaspoon sea salt 
¼ teaspoon pepper
flavor options:
½ cup roasted red peppers, chopped
⅓ cup green onion, chopped
Directions:
1.Drain and rinse the soaked cashews. Place in a high-powered blender.
2.Add remaining ingredients and blend until smooth, scraping down sides as needed.

For flavored versions: 
roasted red pepper – omit water; add chopped red pepper and pulse or blend into cashew cheese base. 
green onion – pulse chopped green onions into cashew cheese base.
Source
Servings/Yield
Yield: 2 cups
Jennifer C Katz RDN LDN CC is a registered dietitian certified in professional culinary arts and founder of Fresh Balance Nutrition. She helps women learn healthy nutrition and lifestyle strategies to relieve symptoms and find balance in perimenopause and menopause.