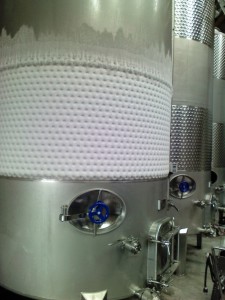 Are you the one that doesn't like being cold? Do you cringe at the thought of freezing temps? Well it might not be the most pleasant temperature for people it is great for wine! As wine ages many things happen chemically to the wine. Not the least of which is the reduction of Tartaric acid levels due to its combination with free Potassium to produce an crystal which eventually drops out. You may have seen these on the corks or in the bottles from time to time. To hasten their production which results in a smoother wine we drop the temperature of the wine to 28 degrees F. This accelerates the formation of the crystals and makes the acid levels more stable, hence the term "cold stabilization" .
This process is done on all of our wines to bring out the best acid balance which helps with mouth feel and flavor development. Come out  for a special tasting of our Reserves and gold medal winners in the month of November and make your holiday table sparkle with our best!  For more information on our November reserve tasting, visit our events page.
Reserve '14 Chardonnay: Estate grown, fermented and aged in French oak.     Gold medal
'14 Vignoles: Estate grown with bright fruit and nice acid. Great for turkey and ham.  Gold medal
Reserve '13 Chambourcin: Estate grown, French oak aged nice berry nose and round tannins.
 '13 Red Skins: Estate grown blend of Chambourcin, Cabernet Sauv and Cabernet Franc. Deep rich flavorful red.
Sweet Chessie: Dessert in a glass. This late harvest wine presents an intense intricate flavor palate for after dinner.
So come out and explore our reserve wines and "reserve" a place for them on your dinner table this holiday season. From our family to yours have a safe and wonderful holiday.
Anthony Aellen Pres./ Winemaker