Wine Critic Rates Linganore Petit Verdot a "Rare Find"
Another Linganore dry wine is getting rave reviews, this time it's our 2016 Petit Verdot! Wine writer Aaron Menenberg attended the Atlantic Seaboard Wine Association's annual event that celebrates the winners of the Yearly Wine competition. Linganore's Petit Verdot was among those winning wines.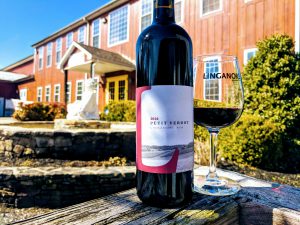 "This Linganore hits the acid bullseye, and delivers it with a lovely peppery compliment to the generous raspberry, strawberry and wet soil notes," Meneberg wrote. "It borders on elegant, which is a rare find for the variety."
Our 2016 Petit Verdot is 100% estate grown in the thin shale-filled soils facing the winery. It is aged in French oak barrels for 10 months, which contributes to its strong tannin structure and long finish. We intentionally harvest the petit verdot grape last, as the extra time on the vine gives the wine its unique flavor profile. Our Petit Verdot is one of 13 estate bottled wines we produce here, and we make sure each one gets the same attention to detail to ensure they are of the highest quality possible.
You can read the entire article from Menenberg at http://thecorkreport.us/2019/02/the-atlantic-seaboard-wine-association-evolves-as-east-coast-wine-does/