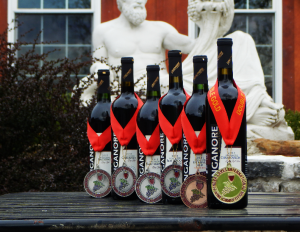 FINGER LAKES, NY., March 26, 2017/PRNewswire/ — Linganore Winecellars, located at 13601 Glissans Mill Road in Mt. Airy Maryland, announces its most recent award-winning wines from the prestigious Finger Lakes International Wine Competition. Maryland's dry reds are becoming more recognized throughout the wine industry and Linganore Winecellars is at the forefront of this movement. All six of the winery's entries, 2015 Reserve Chambourcin, 2015 Retriever Red, 2015 Petit Verdot, 2015 Reserve Cabernet, 2015 Red Skins and 2015 Bacioni, which all retail between $14 – $29 a bottle – received awards.
Linganore's Reserve Chambourcin struck a blow with a double gold award for its 2015 vintage. Retailing at $27 per bottle, this wine is a medium bodied red with aromas of black cherry, spice and dark chocolate that finishes with the smooth mingling of berry and vanilla notes. The 2015 Reserve Chambourcin received the highest award in its class and was the only Maryland wine to win a double gold.
Winning a gold medal, was Linganore's 2015 Retriever Red, which retails at $14 per bottle.  A blend of Chambourcin and Cabernet grapes, Retriever Red is an off dry and heavy bodied red with pronounced tannin and oak influence, creating a bold wine with firm structure. Retriever Red was one of only 6 wines in Maryland to win a gold medal.
The remaining entries, 2015 Petit Verdot, 2015 Reserve Cabernet, 2015 Red Skins and 2015 Bacioni all received silver medals from the competition, which features 3,077 wines from 621 vineyards, internationally.
"There are only two competitions outside of Maryland that we enter, and the Finger Lakes International is one of them" said Anthony Aellen, Executive Winemaker at Linganore Winecellars. "We are very proud to have been recognized by such a prestigious competition."
Established by Jack and Lucille Aellen in 1971, Linganore Winecellars is a family operated vineyard and winery nestled on 230 acres of picturesque rolling countryside, 4.5 miles northeast of historic New Market, Maryland. The vineyard has created a splendid variety of wines which have won over 200 medals in national and international competitions. Producing over 30 wines, ranging from stylish white and red dinner wines to elegant semi-sweet grape, fruit, and honey wines, Linganore Winecellars enjoys a reputation as Maryland's largest vineyard and is a relaxed and inviting atmosphere to sample wines in a casual setting.