Pop! Fizz! Clink! Bubbles Matter.
One of my favorite parts of a wedding is the Champagne toast. How cool it is to drink a toast to the newly wedded couple! I love the idea of a bestie (or two!) standing up next to a bride or groom and telling the story of their friendship and the newlyweds' courtship. Seeing the relationships that our clients have with their friends fills my heart. At the end of a speech, that has the whole room laughing, crying, and captivated, we all raise our glass to take a sip in celebration of the newly married couple. What a joyous task!
"Whether you sip it from a tall, elegant flute or the more petite, wider coupe (think Marilyn Monroe in Some Like It Hot!), it is a proper tribute to all things authentic and jubilant, especially love."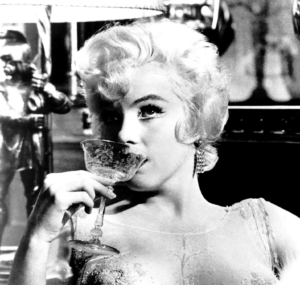 While toasts may be followed with a sip of whatever beverage is in front of you, it seems anti-climactic to finish such a poignant moment with anything other than a sip of delightful, sparkling wine. There is something so dreamy about the experience and sounds of drinking sparkling wine –the splash of the gold liquid, glimmering in the glass, the excited whisper of the bubbles, the ting of clinking glasses, and the laughter that escapes your lips as you sip. It's the rambling, gleeful melody of celebration. There is no better way to celebrate the love story of the wedding day, than with a glass of gilded, delicious, effervescent wine! Wedding toasts, here in the United States, are typically done with American sparkling wine since true  Champagnes are only made in the Champagne region of France.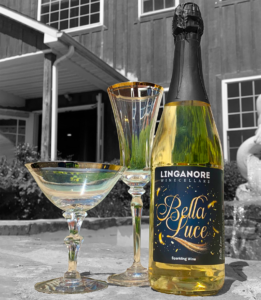 Because sparkling wines are not held to the same restrictions as Champagnes, American winemakers are free to innovate and create, and the result is delicious! I may be biased but I'm enchanted by our new sparkler, Bella Luce. Bella Luce is named after our co-founder, Lucille. She and her husband, Jack, are the winery's first love story. I am charmed by the idea that her namesake sparkling wine is used to celebrate all the love stories we are honored to host on the property, now. Bella is semisweet and crisp, with notes of melon, citrus, and honeysuckle. Whether you sip it from a tall, elegant flute or the more petite, wider coupe (think Marilyn Monroe in Some Like It Hot!), it is a proper tribute to all things authentic and jubilant, especially love. So, here's to weddings, love stories, best friends, family, and all the things we celebrate—cheers.!

Tags: #mdweddings, #mdwine, #Weddings@linganore