Mountain Red
Mountain Red wine and peanut butter bars – an adult version of classic favorites.
You know all of our "Mountain" wines, right? They're pretty much a Linganore staple when it comes to our sweeter wines.
Well we have our Mountain White, Mountain Pink and Mountain Berry, and a few weeks ago we introduced our newest: Mountain Red. What took us so long?
The idea behind Mountain Red was to create a fruity, grapey tasting red wine for our mountain series. It's made with Concord grapes, which give a the wine a "fresh grapes from your grandma's backyard fence" taste. Think grape juice or grape jelly with a kick!
Mountain Red was made in stainless steel tanks to preserve its fruitiness. It can currently be found in our tasting room and numerous festivals, and should be available in liquor stores soon.
The wine is delicious on its own but would also be well complimented with sliced pears or apples – perfect for fall. Try it at your Labor Day weekend barbecue or a tailgate with hamburgers, hot dogs, coleslaw and potato salad. This wine loves picnic food.
Also now that the kids are back in school, why not treat yourself to an "adult PBJ" taste, and sip Mountain Red with a peanut butter dessert? LeAnne, the wife of Kim from our tasting room, recently adapted this recipe for peanut butter bars. Enjoy!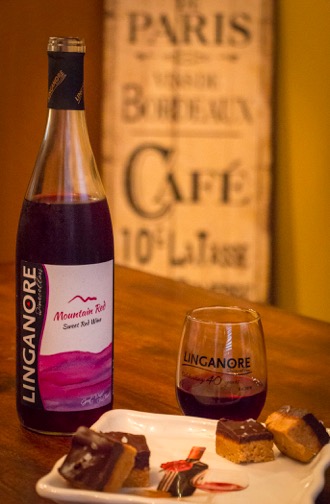 Peanut Butter Biscoff™ Bars
1 ½ cups confectioners' sugar
1 ½ cups vanilla wafer crumbs (3 cups mini-wafers, before crushing)
½ cup creamy peanut butter
½ cup Biscoff™ Butter
¼ tsp Kosher salt, divided
1 stick (8 tablespoons) unsalted butter, melted
8 ounces semisweet baking chocolate, chopped into small pieces
¾ cup heavy cream
1 teaspoon flaky sea salt, optional
Directions
Coat the bottom and sides of an 8-by-8-inch baking dish with nonstick spray.
In a large bowl, combine the confectioners' sugar, vanilla wafer crumbs, peanut butter, Biscoff butter, 1/8 teaspoon salt, and melted butter. Press the mixture into the prepared baking dish and set aside.
Place the chocolate and 1/8 teaspoon salt in a medium bowl. Heat the cream in a small saucepan until bubbles start to form around the edges. Pour the cream over the chocolate, let sit for 1 minute and then whisk until completely melted and smooth.
Pour the ganache over the peanut butter mixture, sprinkle evenly with flaky sea salt if desired, refrigerate until the chocolate is cooled and set, at least 45 minutes and up to overnight.
Cut into squares to serve.
Tags: concord, concord wine, dessert, maryland wine, peanut butter bars, sweet wine