Go Back in Time with Medieval Mead & the MD Renn Fest
Take a trip back in time with the Maryland Renaissance Festival and Linganore's Medieval Mead. Recreate the feeling of merriment of the Middle Ages with our Mead created in the tradition of the noble honey wines of the times. A sweet honey wine made with 100% real honey, Linganore's Medieval Mead is the Official Mead of the Renaissance Festival, the second largest running Renn Fest in the United States. The Renn Fest, outside of Annapolis, Maryland, runs from August 24 – October 20.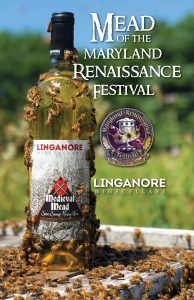 Take a goblet of Mead with you as you stroll through the 27-acre Village of Revel Grove this year, and marvel as the woods come to life with the sights and sounds of a period known for its revelry and festivity. With more than 200 professional performers, armored jousting on magnificent steeds, and streets filled with village characters it truly will take you back in time. The food and crafts are always incredible, and nothing goes better with a giant smoked turkey leg than Mead! Regulars at the Renn Fest have also concocted mixtures of Mead with other Linganore wines and drinks, which you can find at the Renn Fest, or we have listed a few at the bottom of the page. It's a well-kept secret that Mead is delicious warmed and you can even try it with cinnamon and cloves. 
If you can't make it to the Renaissance Festival or the winery, or you just want to pick up a bottle quickly, head to one of the liquor stores below. If you don't see it in the liquor store near you, ask the store to carry it for you – as long as they know they have a customer for it, they will most likely bring it in so you don't have to go far to enjoy it! 
| | |
| --- | --- |
| Store Name | Address |
| 177 Liquors | 2903 MOUNTAIN ROAD, PASADENA, MD 21122 |
| Albanstown Inn | 18720 BRICKSTORE RD, HAMPSTEAD, MD 21074 |
| Amber Meadows Liquors | 183 THOMAS JOHNSON DR, FREDERICK, MD 21701 |
| Angels Food Mkt | 4681 MOUNTAIN ROAD, PASADENA, MD 21122 |
| Anita Liquors | 1408 S MAIN ST, MT AIRY, MD 21771 |
| Arundel Mills W & S | 7645 ARUNDEL MILLS RD, HANOVER, MD 21076 |
| Bay Ridge Wine & Spirit | 111 HILLSMERE DR, ANNAPOLIS, MD 21403 |
| Bel Air Liquors | 315 S. MAIN STREET, BELAIR, MD 21014 |
| Belby | Montgomery County |
| Camp Meade Liquors | 452 CAMP MEADE RD, LINTHICUM, MD 21090 |
| Champion Liquors | 7385 BALTO/ANNA, GLEN BURNIE, MD 21061 |
| Chesapeake Liquors | 6720 C RITCHIE, GLEN BURNIE, MD 21061 |
| Cindys Skylight Liquors | 7250 MONTGOMERY RD, ELKRIDGE, MD 21227 |
| College Park Liquors | 4707 NAVAHOE ST, COLLEGE PARK, MD 20740 |
| Cork & Bottle | 4305 RIDGE RD, MT AIRY, MD 21771 |
| Customer Breakage | 8201 STAYTON DR, JESSUP, MD 20794 |
| Dawsons | 599 BAL.ANNAPOLIS BLVD, SEVERNA PARK, MD 21146 |
| Discount Liquor | 401 BALTIMORE PIKE, BEL AIR, MD 21014 |
| Discount Liquors | 5005 SOLOMON IS, HUNTINGTOWN, MD 20639 |
| Dlc Stores (Montgomery County) | Aspen Hill DLC; Burtonsville DLC; Darnestown DLC; Downtown Rockville DLC; Fallsgrove DLC; Goshen Crossing DLC; Hampden Lane DLC; Kingsview DLC; Leisure World DLC; Muddy Branch DLC; Olney DLC; Seneca Meadows DLC; Silver Spring DLC; Walnut Hill DLC; Wheaton DLC |
| Emmitsburg Liquors | 101 SILO HILL ROAD SUITE #2, EMMITSBURG, MD 21727 |
| Evergreen Liqs | 5809B BUCKEYSTOWN PIKE, FREDERICK, MD 21704 |
| Festival Spirits Wine & Deli | 5 BELAIR PKWY SOUTH, BEL AIR, MD 21014 |
| Franklin Liqs | 2913 URBANA PK, IJAMSVILLE, MD 21754 |
| Friendly Liq. | 1256 E ANNAPOLI, ODENTON, MD 21113 |
| Grapes & Grain Wine And Spirit | 4311 EBENEZER ROAD, BALTIMORE, MD 21236 |
| Greenbrier Wine & Spirits | 225 BRIERHILL DRIVE, BEL AIR, MD 21015 |
| Grove Beer & Wine | Montgomery County |
| Harrison S Wine & Liquors | 207 N HARRISON ST, EASTON, MD 21601 |
| Hilltop Wine & Spirit | 6856-58 RACETRACK ROAD, BOWIE, MD 20716 |
| Honeybee Liquors | 7509 RITCHIE HW, GLEN BURNIE, MD 21061 |
| Honeygo Liquors | 5004 HONEYGO CENTER DR, PERRY HALL, MD 21128 |
| Jason Liqs. | 9339 BALTIMORE NAT L PIKE, ELLICOTT CITY, MD 21042 |
| Latela S Discount Liquor | 2733 B ANNAPOLIS RD, HANOVER, MD 21076 |
| Lyndwood Wine Spirit | 6010 MARSHALEE, ELKRIDGE, MD 21075 |
| Marketplace Wine & Spirits | 354 I MOUNTAIN RD, PASADENA, MD 21122 |
| Medieval Times (Fintech) | 7000 ARUNDEL MILLS CRL, HANOVER, MD 21076 |
| Mt Airy Liquors | 321 E RIDGEVILLE BLVD, MT AIRY, MD 21771 |
| New Team Spirits | 588 CRANBROOOK ROAD, PLAZA SHOPPING CENTER, COCKEYSVILLE, MD 21030 |
| Rips Country Inn | 3809 N CRAIN HW, MITCHELLVILLE, MD 20716 |
| Riverside Liquors | 1299-A RIVERBEND WAY, FREDERICK, MD 21701 |
| Ronnies Bev Warehous | 1514 ROCK SPR, FOREST HILL, MD 21050 |
| Roxy Liquors | 761 E WILSON BLVD STB2, HAGERSTOWN, MD 21740 |
| Safeway | Montgomery County, Olney |
| Sam S Wine & Spirits | 11130-C REISTERSTOWN R, OWINGS MILLS, MD 21117 |
| Sharkeys Liquor & Mini Market | 1619 MERRITT BLVD, BALTIMORE, MD 21222 |
| Short Stop Beverage Barn | 719 S. PHILADELPHIA BLVD., ABERDEEN, MD 21001 |
| State Line Liquors | 1610 ELKTON RD, ELKTON, MD 21921 |
| Sun Valley Liqs | 7965 BALTIMORE ANNAPOLIS BLVD, GLEN BURNIE, MD 21061 |
| The Hop And Vine | 14 N MARKET STREET, FREDERICK, MD 21701 |
| The Liquor Shoppe | 2275 HANOVER PIKE, HAMPSTEAD, MD 21074 |
| The Perfect Pour | 6630 MARIE CURIE DR, ELKRIDGE, MD 21075 |
| Thurmont Liquors | 217 TIPPIN DR UNIT 6, THURMONT, MD 21788 |
| Total Wine & More | 3335 CORRIDOR MARKETPLACE, LAUREL, MD 20724 |
| Total Wine (Beltway Wine & Spirits) | 8727 LOCH RAVEN BLVD, BALTIMORE, MD 21286 |
| Town & Country Liquors | 28248 ST MICHAELS RD, EASTON, MD 21601 |
| Wesleys Hollow Inn | 3700 TELEGRAPH RD, ELKTON, MD 21921 |
| White Marsh Plaza Li | 7968 HONEYGO BL, BALTIMORE, MD 21236 |
| Wilkens Liquors | 4626 WILKENS AVENUE, BALTIMORE, MD 21229 |
| Wine & Liquor Depot | 16002 D CRAIN HWY SE, BRANDYWINE, MD 20613 |
| Woodbine Wine & Spirits | 703LISBON CTR DR STE E, WOODBINE, MD 21797 |
Mead Recipes
Felicity
1 part Linganore Mead, 
1 part Linganore Raspberry Wine 
Fi 
Fi
1 part Linganore Mead 
1 part apple cider 
1 part Linganore Raspberry Wine 
Bee Sting
1 part Linganore Mead 
1 part apple cider 
Spiced Holiday Mead

 

1 bottle Linganore Mead 

1 apple cut into ½ inch cubes 

½ tsp ground cinnamon 

½ tsp ground cloves 

Stick cinnamon for garnish 

Pour Mead into a crock pot and set on low heat. Add the cubed apple along with the ground cinnamon & cloves and allow to come up to desired temperature. Place stick cinnamon in mugs around the crock pot to ladle spiced wine into glasses. 

Tags: Mead, Medieval Mead, Ren Fest, Renaissance Festival