Hello Spring!
A lot of people associate warm sunny days with our sweeter 100 percent fruit wines, but our dry wines can work just as well. To highlight some of our favorite dry wines, they are currently on sale in our tasting room. Once you try them out with our winemakers' recommended food pairings, you may have a whole new way of looking at wine and sunshine! (And PS: there might also be a dessert wine involved, too).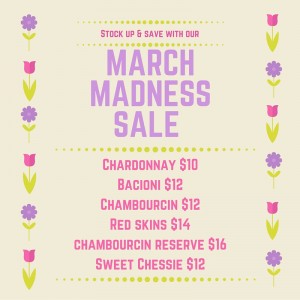 Chardonnay – $9.17 plus tax
Our winemakers suggest pairing this with chicken and seafood dishes, particularly white fish and lobster dipped in butter. Lobster and white wine? No better way to get ready for summer.
Bacioni – $11.01 plus tax
This red blend was a huge seller last weekend at the Maryland Home and Garden Show. Fitting its name (Italian for "a big kiss"), we recommend it paired with red sauce dishes that aren't super meat heavy. Try a grilled margherita pizza, a bottle or two of Bacioni, and a night on the patio with your girlfriends!
Red Skins – $12.84 plus tax
This earthy award winner works great with a home-cooked steak dinner, but it's also perfectly paired with aged cheese and dark chocolate. Put it out at a spring get-together and get ready for lots of compliments.
Chambourcin and Chambourcin Reserve – $11.01 – $14.68 plus tax
Fewer foods scream warm weather as much as pulled pork barbecue, and both of these wines are a perfect match for it. The red fruit and soft tannins also pair excellently with ribs, our winemakers say.
Sweet Chessie – $11.01 plus tax
We love our dry wines, but sometimes you just need a little dessert. This vignoles and melody grape blend has tropical fruit notes that would make it delicious on top of vanilla ice cream!
---
Looking for wines in your neighborhood? Check out where we're doing tastings this month-
Spirit of Liberty

11339 Liberty Rd, Frederick, MD 21701

3/11/2016

4-7pm

Doc's Liquors

7067 Baltimore Annapolis Blvd, Glen Burnie, MD 21061

3/12/2016

4-7pm

Fishpaws

954 Ritchie Hwy, Arnold, MD 21012

3/17/2016

5-7pm

Liquor Barn

520 E Baltimore St # 40, Taneytown, MD 21787

3/18/2016

4-7pm

Rite Aid Liquors

140 Englar Rd Westminster, MD 21157

3/18/2016

4-7pm

Total Wine

8727 Loch Raven Blvd, Towson, MD 21286

3/19/2016

12-3pm

Pipers Wine & Spirits

4127 Hanover Pike, Manchester, MD 21102

3/19/2016

12-4pm

Mels Liquors

7915 waterloo Rd, Jessup

3/22/2016

4:30-7:30pm

Honeygo Wine & Spirits

5004 Honeygo Center Dr #104, Perry Hall, MD 21128

3/25/2016

5-8pm

Village Market

2401 Whittier Dr., Frederick

3/25/2016

4:30-7:30pm

Reds Wine & Beer

5805 Clarksville Square Dr #7, Clarksville, MD 21029

3/26/2016

1-4pm