LINGANORE WINECELLARS WINS 2 BEST IN CLASS & 2 DOUBLE GOLD AWARDS AT THE MD GOVERNOR'S CUP WINE COMPETITION
MOUNT AIRY, MD., February 12, 2021/PRNewswire/ — Linganore Winecellars, located at 13601 Glissans Mill Road in Mt. Airy Maryland.
Linganore Winecellars received a total of eleven medals and two "Best In Class" designations at the 2020 Maryland Wine Governor's Cup Competition. Originally planned for August 2020, the competition was finally held on February 5 with a cohort of judges and staff. The 32nd annual event featured 160 wines, some made from new-to-Maryland varieties, like Malbec, Saperavi, and Chenin Blanc.
Linganore Winecellars passion is to make wines that can compete on a world stage. Thanks to our extremely talented winemaking team and cultivating grape growers, the winery won double gold awards for its Brut Albariño 2019 and Saperavi 2019. In addition to the double gold award, the Brut Albariño also won "Best In Class" for sparkling wines, while the gold award-winning Seventh 2020 earned "Best In Class" for the rosé category.
Albariño, a Spanish variety that is gaining popularity amongst wineries and consumers alike in the Mid-Atlantic region, was first planted on the Linganore Estate in 2015. "Our first released Albariño gained attention from wine critic James Suckling with 93 points and I'm glad that we've now seen continued success by winning double gold and "Best In Class" with the 2019 sparkling version," beams Ray Mitcham, head winemaker at Linganore Winecellars. The Brut Albariño releases elegant notes of pear, apricot, and grapefruit with each bubble in the slightly sparkling wine. A light, rounded midpalate melds smoothly into a crisp and balanced finish.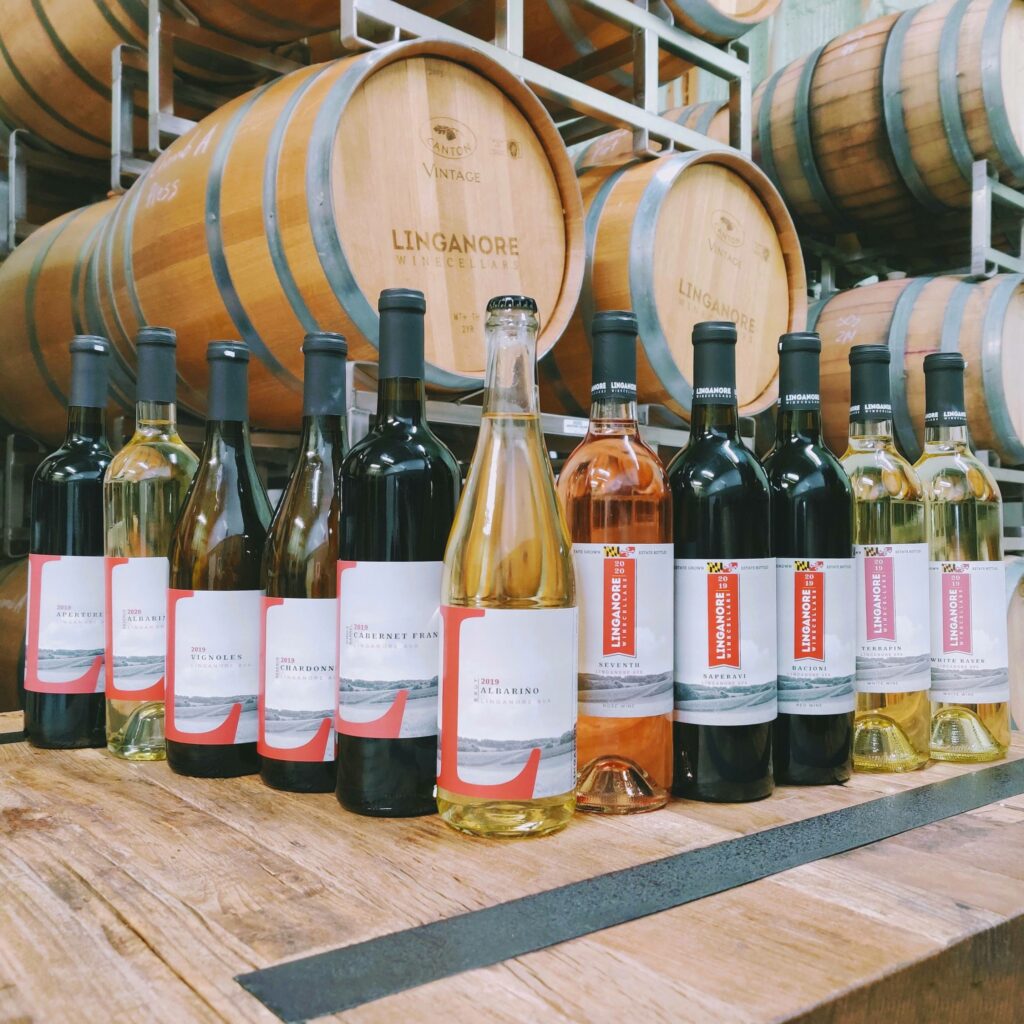 In 2016, Linganore planted the first commercial Maryland vineyard of Saperavi, a grape native to the country of Georgia. As a medium-bodied red wine rich in aromatics of dark blueberries, vibrant blackberries, and subtle vanilla, Linganore is very pleased this introductory vintage earned double gold. "This was the first time any of us had worked directly with Saperavi and its intense aromas and deep color made it a joy to create," said third-generation winemaker, Melissa Aellen. Her father, executive winemaker, and vice-president, Anthony Aellen adds, "We are very proud of our winemaking team for getting recognition of these fantastic wines."
"With the extremely dry fall of 2019, I'm not surprised that the quality of the grapes was excellent and that we received many awards for that vintage," said Eric Aellen, vineyard manager and vice-president. In the coming years, Linganore plans to expand their vineyards by 8 acres with some well-known grape varieties and a few lesser-known ones, such as San Marco paving the way for innovation in Maryland wine.
To explore these and more of Linganore Winecellars' wines and learn about the Aellen family, visit linganorewines.com or the winery in Mt. Airy, MD.
All Linganore Winecellars Awards – MD Governors Cup Wine Competition:
Best in Class
Brut Albariño 2019
Seventh Rosé 2020

Double Gold
Brut Albariño 2019
Saperavi 2019

Gold
Cabernet Franc 2019
Chardonnay Reserve 2019
Seventh Rosé 2020
Silver
Albariño 2020, Bacioni 2019, Terrapin 2019, Vignoles 2019, White Raven 2019

Bronze
Aperture 2019