Cinco De Mayo
You don't really need an excuse to drink fruity wine and eat Mexican food, but this week you've got one!
Cinco de Mayo is on Thursday (an excuse in and of itself to celebrate), and you can prepare by picking up a bottle of our sangria. We make two varieties: a traditional red Sangria and Mango.
Our traditional Sangria is a red wine aged with citrus fruit. It is delicious served over ice with added peaches, raspberries, strawberries and orange slices. If you're really into sweetness, add a splash of Sprite or 7 Up. Also, be sure to see below for a more detailed recipe.
Our Mango Sangria is one of our newer wines and has become an instant favorite at festivals. The wine is made with a white grape blend and 100 percent natural mango extract. It is refreshing on its own, but we love it in a pitcher with ice, sliced pears, blueberries and strawberries. It also could be served 50/50 with one of our fruit wines, like Raspberry or Blueberry.
Cinco de Mayo doesn't have to be a tough day for dry wine lovers, either.
If you're looking for a dry white wine for your fiesta, try our Vignoles. This wine has a tropical fruit background with hint of orange blossom, making it a great match for peppers and Mexican spices. Our Retriever Red and dry Pinky's Rose' are also a good match for spicier cuisine. Our president and winemaker, Anthony Aellen recommends the combination of our Rose' with jalapeno poppers!
Thirsty/hungry, yet? Try these recipes from Pinky:
Mango Salsa
3 ripe Mangos, cut into small cubes
1/2 red Onion, coarsely chopped
1 Sweet Red Pepper, seeded, de-stemmed and coarsely chopped
1/4 cup packed chopped Cilantro
1/2 jalapeno, seeded, finely diced
1 Tbsp Olive Oil
1/4 cup Mango Sangria wine
Juice of one Lime
salt and pepper to taste
Mix all ingredients together and enjoy with chips, or over fish or chicken.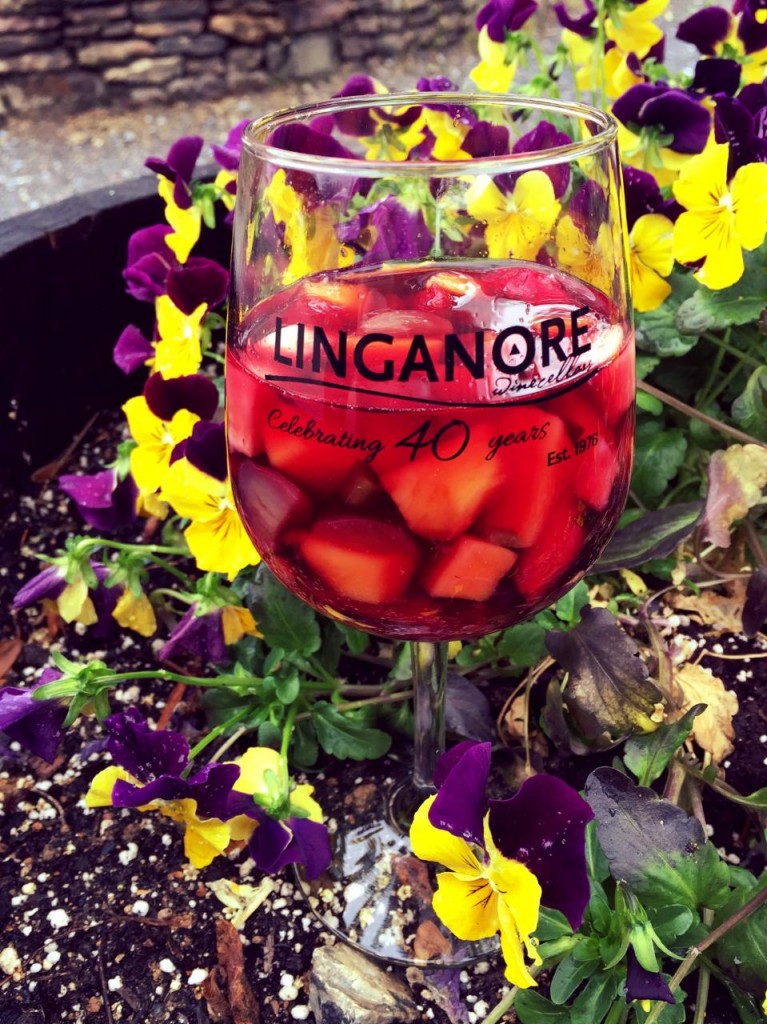 Linganore Sangria Festiva
2 cups Linganore Sangria
2 cups Simply Lemonade
1 ripe Mango, cubed
1 Banana, sliced into 1/4 inch slices, then quartered
1 cup Grapes, cut in half lengthwise, then halved again
1 cup sliced and chopped Strawberries
1 jalapeno, seeded and finely chopped
Combine Sangria and Lemonade in a pitcher. Add remaining ingredients. Serve immediately and enjoy!
If you would prefer a sweeter Sangria, pour 1 cup of the Lemonade into a sauce pot and add 1/2 cup sugar. Heat until sugar is dissolved. Cool and add to the Sangria.

Tags: cinco de mayo, linganore, mango salsa, mango salsa recipe, maryland wine, maryland winery, salsa, sangria, sangria recipe, wine, winery