2019 Vintage Among Best Linganore Winemakers Have Seen
MT. AIRY, MD, Nov. 8, 2019 /PRNewswire/ — Eager anticipation to sample this vintage will give way to satisfying pleasure and new taste sensations when Linganore Winecellars releases its 2019 Nouveau wine. Per French custom, Nouveau is released on the third Thursday in November (this year on November 21st).
With a nearly perfect summer growing season and exceptional harvest, all signs point to a stellar 2019 vintage. "There was very little rainfall throughout the growing season this year, especially in the important months, June through September. We also had lots of sunlight during most of that period and low humidity, which brings down mildew and disease pressure and allows the vines to stay healthier. This creates a better canopy allowing photosynthesis to take place and produce better fruit," says Ray Mitcham, head winemaker for Linganore Winecellars in Mt. Airy, Maryland.
The 2019 Nouveau is a precisely balanced field blend of Syrah and Chambourcin.  Zesty, fresh and vibrantly fruity with a smooth mouthfeel and bright finish, this light-bodied red is intended to be enjoyed immediately. "We filled over 108 red barrels this year and most of those won't be released until 2021, so the fact that this wine is being released in the same calendar year is unique and exciting," says Melissa Aellen, third-generation winemaker of her family's vineyard. "This blend, all grown and hand-picked here at Linganore, was fermented and then pressed-off. It's been aging in stainless steel barrels for about two months now."
"It's a very young and fruit-forward wine by intention" adds Mitcham, "The Syrah shows through more than the Chambourcin, with some light peppery notes, along with hints of cranberry and bright cherry. I would describe it as more of a fruit-bomb wine, higher in acidity so it's especially good for pairing with lighter foods, great for Thanksgiving."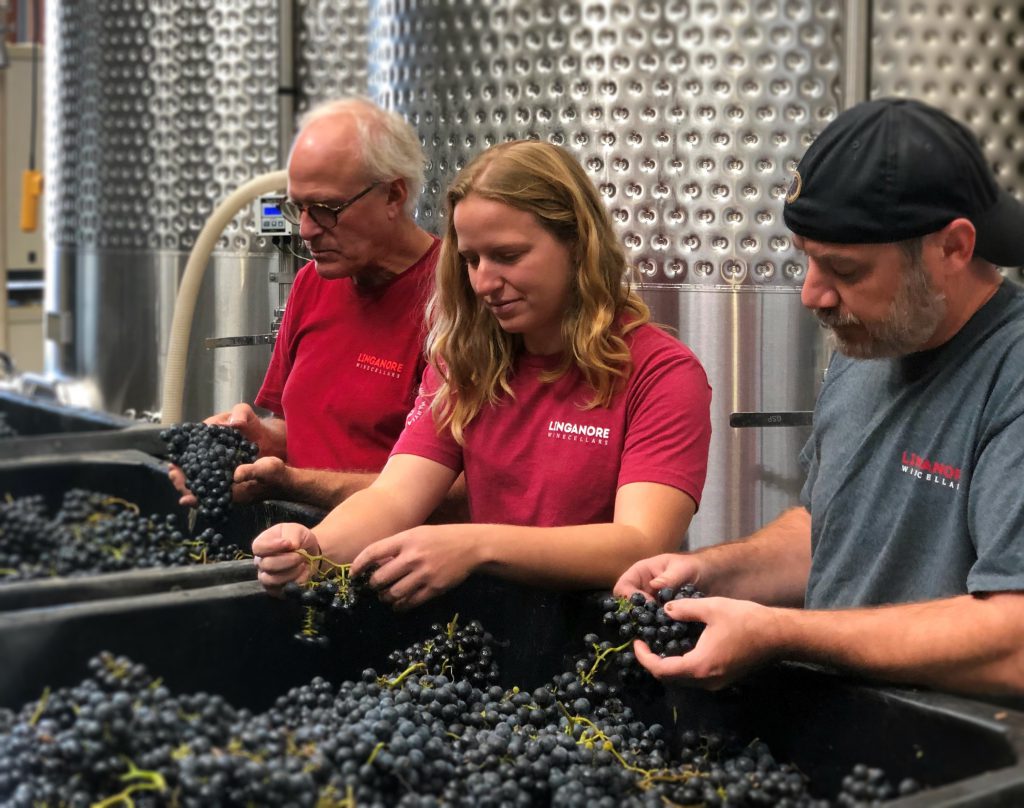 Winemakers – Anthony Aellen, (left) Melissa Aellen, (center) and Ray Mitcham, (right)sorting through freshly harvested grapes.
So why release a Nouveau wine this year?
"Well, 2018 was a challenge, due to approximately 94-inches of rain in the region throughout the year. Usually, when you have years like that, you are used to it being followed by a better vintage, at least it seems to work that way," says Mitcham. "Last year was a challenging harvest, followed by a delightful one this year."
"Which makes better tasting wine," laughs Aellen. "Overall, the weather this year was stellar. I think that 1999, 2010, and 2012 were good too, but this is the best we've had in the last 6-7 years."
"Nouveau is the harvest-end celebration.," adds Mitcham. "It's the first picked and finished red wine. It all happens in the same calendar year, which is rare in this region." Linganore's 2019 Nouveau will be a limited bottling, sold at the winery and online to residents in the State of Maryland.
To sample and take part in the release of the 2019 Nouveau, you can attend Linganore's Harvest's End Celebration and meet the winemakers.  The event takes place on November 21st, from 5:30 PM to 8:00 PM.