You know when you walk into the house and the whole place smells so darn good, you can't wait to find out what's cooking? That's exactly what happened today! You can almost always bet that when it smells that good, Pinky has been playing chef! This time, she really outdid herself. She marinated ribs overnight and slow cooked them until they just fell of the bone. Those lucky enough to try them gobbled them up so quickly, those poor ribs didn't know what hit them.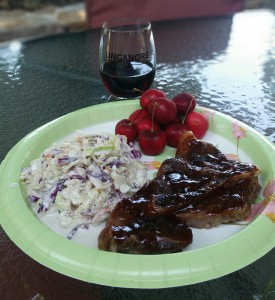 Naturally, being BBQ season, she'd need a wine infused side dish. So she created a delicious slaw to go with those amazing ribs. Just look at the picture, it all looks so yummy. Pinky promises that not only is it easy to make, everyone will love it! While we decided to serve it with Bacioni, it would go great with Sangria. Find the recipes for the ribs, slaw and Pinky's Sangria below.
Linganore Ribs
2 pounds Country style Pork Ribs
1 Bottle Linganore Winecellars Blackberry Wine
Sauce:
2 cups Linganore Winecellars Raspberry Wine
1 Tbsp spicy Mustard (like Guildens)
1 Tbsp Worchestershire Sauce
1 Tbsp Red Wine Vinegar
1 Tbsp Soy Sauce
1/4 cup Honey
1/2 cup Raspberry jelly
1 tsp Hot Hungarian Paprika (or one jalapeno, seeds removed, chopped)
1 large clove garlic, cut into four pieces lengthwise
Put ribs in a bag that you can seal and add 1/2 bottle of the Blackberry Wine, or until the ribs are covered.  Seal bag and refrigerate overnight.  Make the sauce.
In a saucepan, pour 2 cups of the Raspberry wine and boil/simmer until reduced by half.  While still on stove, add the mustard, Worcestershire, Vinegar, Soy Sauce and Honey.  Remove from stove and let cool.  Add the jelly, paprika (or other hot sauce to bring it to the desired level of spiciness) and garlic.  Refrigerate overnight.  The next day, preheat the oven to 300 degrees.  Discard the wine from ribs (do not drink this wine – it will be contaminated with raw pork).  Place ribs in a pan, pour 1/2 of the sauce over the ribs and cook covered for about 2 1/2 – 3 hours, or until done.  Finish on the grill, if desired.  Drizzle remaining sauce over the ribs and serve!
Summer Blue Slaw
1/4 cup Linganore Winecellars Sweet Chessie  (on sale now!) – you'll have extra left over to drink with your meal!
1/2 cup Hellman's Mayonnaise
3 generous cups of shredded coleslaw mix (find in lettuce section of store)
3/4 cup crumbled Blue Cheese
2 dashs of Red Wine Vinegar
2 pinches of Caraway Seed
generous sprinkling of Black Pepper
Mix thoroughly.  At first, it will not seem to have enough dressing, but wait about 15 minutes and it will be fine. Enjoy!
Linganore Sangria 
2 cups Linganore Winecellars Pinky's Rose, or you can use Linganore's Sangria for a sweeter mix
2 cups Simply Lemonade
1 ripe Mango, cubed
1 Banana, sliced into 1/4 inch slices, then quartered
1 cup Grapes, cut in half lengthwise, then halved again
1 cup sliced and chopped Strawberries
1 jalapeno, seeded and finely chopped
Combine Pinky's and Lemonade in a pitcher.  Add remaining ingredients.  Serve immediately and enjoy! If you would prefer a sweeter Sangria, pour 1 cup of the Lemonade into a sauce pot and add 1/2 cup sugar.  Heat till sugar is dissolved. Cool and add to the Sangria.