2020 HOLIDAY PROMOTIONS
DISCOUNTED SHIPPING THROUGHOUT THE HOLIDAY SEASON
See why James Suckling, international wine critic, has given Linganore wines some of his highest ratings. We're now offering 9.99 Shipping when you order our wine online. Perhaps we can make Linganore wines your favorite, too.
If you live in Maryland, DC, Virginia, or Pennsylvania, make sure to order wine by December 27th to receive it by New Year's Eve.

*Only available in the Contiguous United States
CELEBRATE 2021 WITH OUR NEW YEAR'S BUNDLE!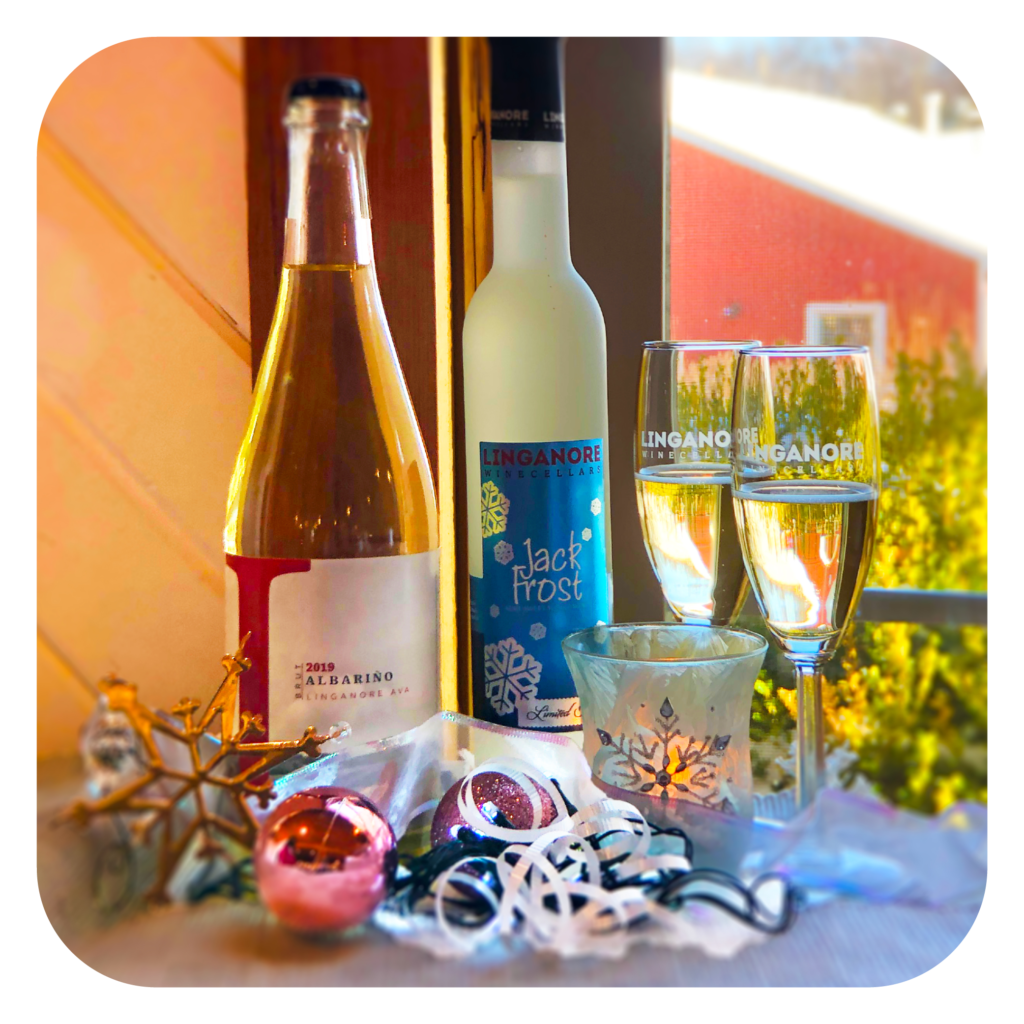 Ring in the New Year with a lovely celebration package from Linganore! Our bundle includes two of our specialty dry and sweet wines, sure to entertain all who are part of your celebration or gift to that special someone!

In addition to two champagne flutes, we've included a bottle of bubbly Brut Albarino, an elegant sparkling white with notes of pear, apricot, and grapefruit, and a bottle of Jack Frost, a delightful light sweet white named after our Founder, Jack Aellen.
*Only available in the contiguous United States
MAKE THE SEASON BRIGHTER WITH OUR HOLIDAY WINE BUNDLES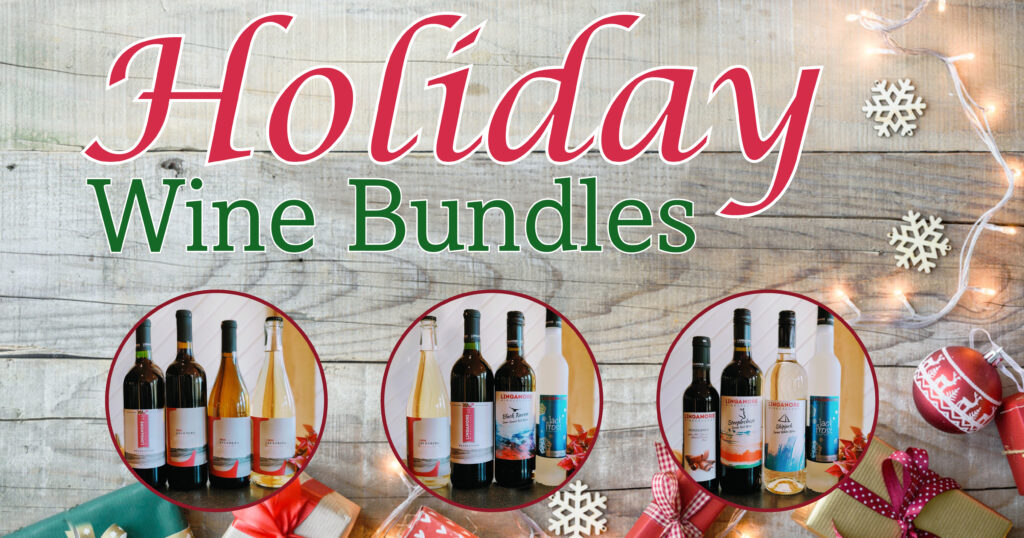 Take the stress out of wine buying for your seasonal celebrations with our Holiday Wine Bundle – or give one as a gift to a host or a friend for the holidays! Our bundles are carefully selected to be the perfect accompaniment to any holiday celebration or meal. Choose from a dry, blended, or sweet wine bundle. Each selection has the addition of two unique wines for you and your guests to enjoy. Order now to ensure timely delivery and selection. It takes approximately 2 -3 business days to ship to the East coast and 3 -6 days to ship to Mid-West/Western States.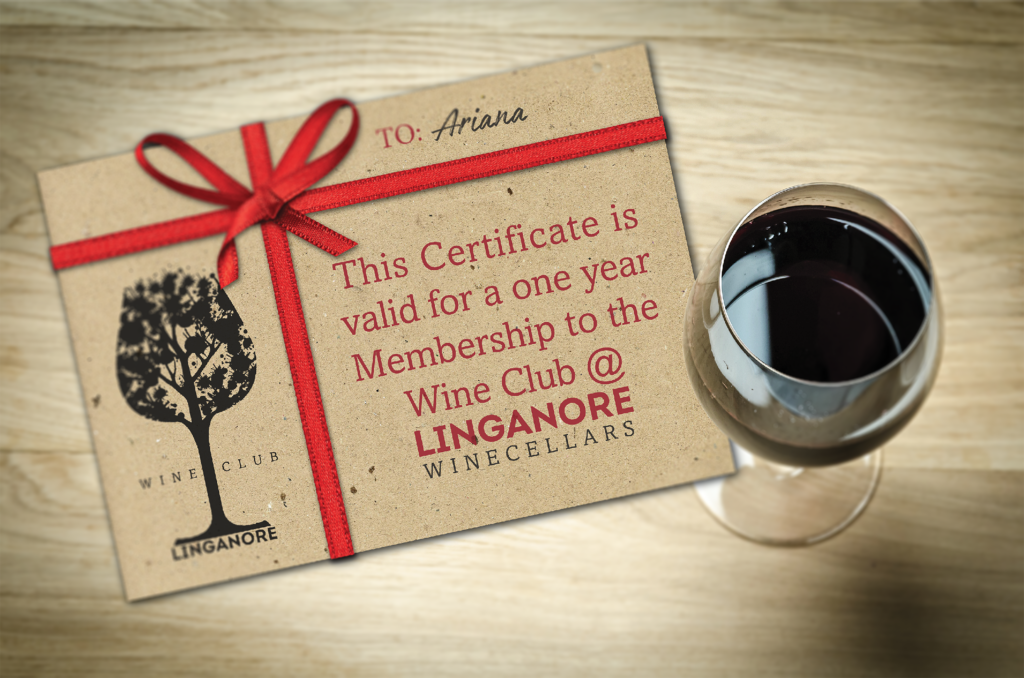 JOIN OUR WINE CLUB
Whether you're treating yourself to a Linganore Wine Club Membership or giving a membership as a gift, the Linganore Wine Club will give you access to some of the finest wines, events, and experiences! LWC Membership helps you keep our award-winning wines in your cellar and the opportunity to socialize with other Linganore Wine fans and our talented staff.
THE GIFT OF WINE
Let your gift recipient choose the wine of their choice with a personalized Virtual Gift Certificate. Linganore Winecellars offers a variety of wines to appeal to every palate. We also offer discounted shipping on all wines.
For in-store gift cards, please call the winery at 301-831-5889.
*Gift Certificates are for online use. Gift Cards are for use at the winery.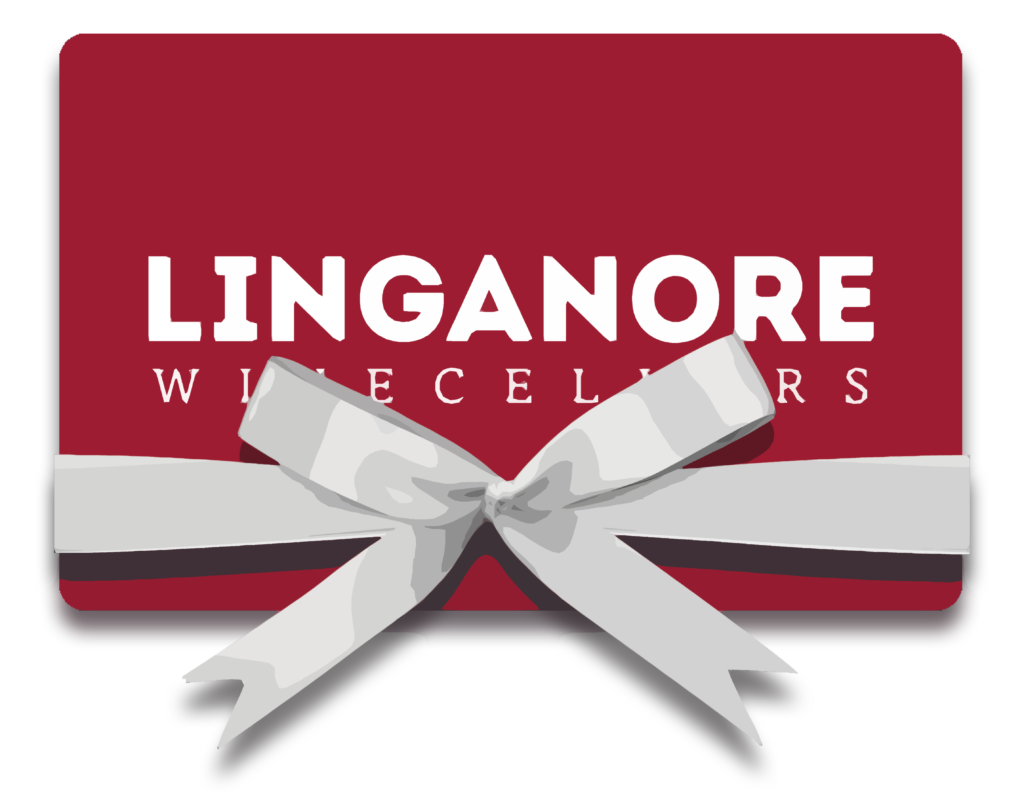 VISITING OUR WINERY
Live locally? Come visit us with family and friends while partaking in one of our private, reserved tastings or grab a bottle or glass of wine and enjoy your time here while practicing social distancing outside by our firepits, in our firepit-warmed pavilion, or inside in our Abisso Hall – or take a few bottles of wine to go! We are open 7 days a week except for Christmas and New Year's. Click on the link to see what our winery has to offer while you are here.
LINGANORE MERCHANDISE ONLINE
Now you can purchase your favorite Linganore merch online!
NEED SOME HOLIDAY RECIPE IDEAS?

Visit our Recipes Page for some of our sweet & savory family favorites made with Linganore wines, including some for the holidays.
Follow us on social media…